Durable&Compact
TTArtisan 21mm F1.5 Lens is one of the smallest and lightest full frame wide-angle lenses. It's all-metal boby with 13 elements in 11 groups and 10 diaphragm blades, weighing 422-458g. Included a tulip flower lens hood and a round filter holder(filter size:72mm) that help to block stray light from causing lens flare and also offer some physical protection to the front of the lens.
Fast &Wide
The broad field of view is complemented by the bright f/1.5 maximum aperture, which excels in low-light conditions as well as for isolating subjects using selective focus techniques.
Wide-Used
Ultra-wide field of view renders space suits interior, street, architecture, and landscape shooting.
Compatible
For Sony E Mount cameras: A7,A7II(A7M2),A7III(A7M3),A7RIV(A7M4) A7R,A7RII(A7RM2),A7RIII(A7RM3),A7S,A7SII,A7SIII,A9 A5000,A5100,A6000,A6100,A6300,A6400,A6500,A6600 NEX-3,NEX-3N,NEX-3R,NEX-5T,NEX-5R,NEX-5,NEX-5N,NEX-7,NEX-5C
For Canon RF R/RP Mount cameras: EOS R,RP,R5,R6
For Nikon Z Mount cameras: Z5,Z50,Z6,Z6II,Z7,Z7II
For Sigma Leica Lumix L mount cameras:
For Lumix S1,S1R,S1H,S5
For Sigma FP
For Leica SL,T,TL,TL2,CL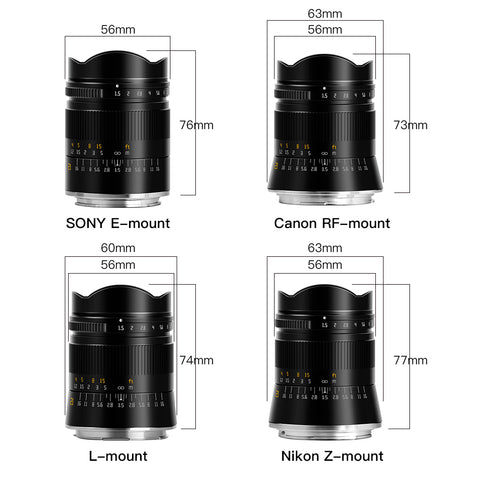 Package Listing:
*TTArtisan 21mm F1.5 Camera Lens; *A Round Filter Holder; *A Round Lens Cap; *Warranty Card; *User Manual
Well Built Lens:
:) Rugged all mirror body structure, ensure lens assemble accuracy and durability. :) The aperture ring has equidistant and very distinct half-stop click stops, tightly assembled. :) In order to prevent the filter from blocking the viewing angle, a free filter holder is provided to extend the viewing angle.
High Image Quality:
:) The picture quality is relatively excellent from the center to the edge. Central part of the image could maintain its high quality even at wide open. :) This lens uses 10 aperture blades which gives 10-pointed sunstars on brilliant points of light at moderate and small apertures.
NOTE
Please kindly note the manual focus lens can't be recognized by camera unless coming with the camera setting [Realease without lens].